Accreditation, Approvals & Memberships

Institutional Accreditation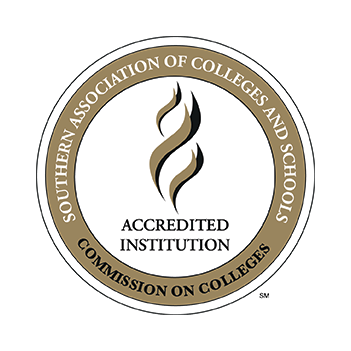 University of Holy Cross is accredited by the Southern Association of Colleges and Schools Commission on Colleges (SACSCOC) to award associate, baccalaureate, masters, and doctoral degree levels. University of Holy Cross also may offer credentials such as certificates and diplomas at approved degree levels. Questions about the accreditation of University of Holy Cross may be directed in writing to the Southern Association of Colleges and Schools Commission on Colleges at 1866 Southern Lane, Decatur, GA 30033-4097, by calling (404) 679-4500, or by using information available on SACSCOC's website (www.sacscoc.org).
Lisa M. Sullivan, PhD
Provost and Vice President for Academic Affairs
University of Holy Cross
4123 Woodland Drive
New Orleans, LA 70131
(504) 398-2237
lsullivan@uhcno.edu
Dr. Sullivan maintains a record of written SACSCOC-related questions, comments and complaints received by the institution. Complainants are expected to have attempted to resolve the issue through the institution's complaint processes before filing a complaint with SACSCOC. If you wish to file a complaint with SACSCOC, the process requires that complainants complete the Commission's Complaint Form and send two print copies to:
Dr. Belle S. Wheelan
President
Southern Association of Colleges and Schools Commission on Colleges
1866 Southern Lane
Decatur, Georgia 30033-4097
(404) 679-4500
The SACSCOC complaint policy only addresses significant, documented, alleged non-compliance with the SACSCOC accreditation standards, policies or procedures.(To access the Commission's complaint policy, procedures, and the Complaint Form, please see Complaint Procedures Against the Commission or Its Accredited Institutions.) It is not intended to be used to involve the Commission in disputes between individuals and member institutions or to cause the Commission to interpose itself as a reviewing authority in individual matters; nor does the policy allow the Commission to seek redress on an individual's behalf. The primary purpose of the SACSCOC complaint procedure is to acquire valuable information regarding an accredited institution's possible non-compliance with accreditation standards, policies and procedures rather than to resolve individual disputes. Complaints must be tied to specific standard numbers from The Principles of Accreditation: Foundations for Quality Enhancement.

Program Specific Accreditation
The Education Programs of University of Holy Cross are accredited by the Council for the Accreditation of Educator Preparation (CAEP) (1140 19th Street, NW, Suite 400, Washington, D.C., 20036, telephone number 202-223-0077).

The Department of Nursing at University of Holy Cross is accredited by the Accreditation Commission for Education in Nursing (ACEN) (3390 Peachtree Rd NE, Suite 1400; Atlanta, GA 30326, telephone number 404-975-5000, fax number 404-975-5020).

The Business Degree Programs of University of Holy Cross are accredited by the International Accreditation Council for Business Education (11374 Strang Line Road Lenexa, KS 66215 telephone number 913-631-3009, fax number 913-631-9154).

The Clinical Mental Health Counseling Program; the Marriage, Couple, and Family Counseling Program; the School Counseling Program; and the Doctoral Program in Counselor Education and Supervision of University of Holy Cross are accredited by the Council for Accreditation of Counseling and Related Educational Programs (CACREP) (1001 N. Fairfax Street, Suite 510, Alexandria, VA 22314, telephone number 703-535-5990).

The Radiologic Technology Programs of University of Holy Cross are accredited by the Joint Review Committee on Education in Radiologic Technology (20 North Wacker Street, Suite 2850, Chicago, IL 60606-3182, telephone number 312-704-5300, fax number: 312-704-5304).

The Neurodiagnostic Technology Programs of University of Holy Cross are accredited by the Commission on Accreditation of Allied Health Education Programs (CAAHEP) (25400 US Highway 19 North, Suite 158, Clearwater, FL 33763, telephone number 727-210-2350).
SACSCOC Substantive Change Reporting Policy (May 06, 2019)
SACSCOC Good Practices for Closing a Program, Site, Branch or Institution
Approval

Description of Substantive Change

June, 2013

New Program

PhD in Counselor Educaiton and Supervision

August, 2014

Off Campus Site

MEd in Educational Leadership

January, 2015

New Program

EdD i n Executive Leadership

February, 2015

New Programs(s)

BS in Culinology

BS in Food Science

BS in Food Business

September, 2015

Off Campus Site

April, 2016

New Programs(s)

AS in Neurodiagnostic Technology

BS in Neurodiagnostic Technology

BS in Health Sciences - EEG Technologist

August, 2016

New Programs
Let's Write Right
Quality Enhancement Plan (QEP)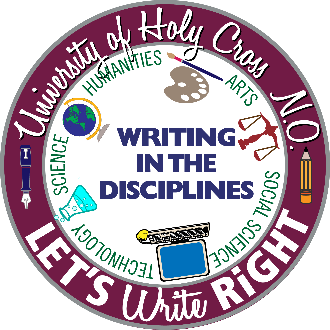 As part of the reaccreditation of the University of Holy Cross in 2017 by the Southern Association of Colleges and Schools Commission on Colleges (SACSOC), a Quality Enhancement Plan or QEP was approved. Entitled Let's Write Right: Writing in the Disciplines, the overarching goal of the plan is to focus on improving the quality of undergraduate students' writing:
By increasing writing support and offering writing-intensive upper-level courses in each degree program, the Let's Write Right QEP will provide undergraduate students with the knowledge and skills necessary for successful writing in their chosen professional careers and/or graduate studies.
The Student Learning Outcomes (SLOs) of the plan reflect the types of learning expected:
1. Demonstrate an understanding of the "context, audience, and purpose" of the writing assignment;
2. Develop content that reveals sufficient knowledge and understanding of the subject throughout the writing assignment;
3. Apply the conventions for formatting and organizing the writing assignment in the style expected in their major discipline;
4. Synthesize evidence drawn from relevant sources with their own ideas, paraphrasing and quoting them correctly, and citing sources by using the format appropriate to their major disciplines; and
5. Write clearly and effectively, using syntax and mechanics appropriate to the writing assignment.
One part of the plan is to test students transferring credit for ENG 102 or completing it at UHC for writing proficiency.
A second part is to require all undergraduate students to successfully complete two writing-intensive courses (one at the 300 level and one at the 400 level) in their major disciplines. Implementation began in the 2018-2019 academic year with the designated courses (identified in the "Course Descriptions" section below) in major programs in the College of Liberal Arts and Sciences, continued in the 2019-2020 academic year in the College of Counseling, Education, and Business, and reaches full implementation with the addition of the College of Nursing and Health Sciences in the 2020-2021 academic year. Student writing in these courses is assessed by using the Association of American Colleges & Universities (AAC&U) Written Communication VALUE Rubric.