Office: (504) 398-2108
24 Hour: (504) 329-4430
For Emergencies, Dial 911
University of Holy Cross Police Department may also be referred to as Campus Public Safety, Security, or Department of Public Safety. University of Holy Cross Police Officers are Campus Security Authority (CSA) defined by the Clery Act and are also referred to as Campus Police, Public Safety Officer, or Security.

The Police Department is in the Main Building on the second floor. Police officers must successfully complete 603 hours of basic training at an approved police academy. The training curriculum is mandated by the Louisiana Peace Officer Standards and Training Commission and includes such topics as criminal law and procedures, patrol and investigation practices and techniques, firearms, first aid, and physical training. An array of 20 hours of in-service training programs are mandated to update and enhance the professional skills of the officers and must be completed yearly.

University police officers are vested with all of the powers, authority and responsibilities of any police officer of the state on property owned by the University, including adjacent public streets. Police authority is derived from Section 17:1805 of the Louisiana Revised Statutes. While there are no formal written agreements with other law enforcement agencies, the Police Department cooperates fully with federal, state and local law enforcement agencies in cases which involve both on-campus and off-campus jurisdiction or when the resources of another agency can be used to facilitate the resolution of an investigation.
The UHC Police Department is responsible for security, safety, law enforcement and emergency services for the university community. The UHC Police works in cooperation with the Office of Environmental Health and Safety, the Office of Parking, and the Office of Risk Management to enhance the safety and security of the campus.
University of Holy Cross Officers are CSAs (Campus Security Authorities) and must assist with the University's Clery Act compliance efforts by immediately forwarding crime report information they become aware of to UHC's Clery Compliance Officer.
---
Our Mission
In keeping with the University mission, the University of Holy Cross Police Department actively collaborates with our community to create a safe and secure campus through education, problem solving and enforcement. We use innovative practices, continuing training and partnerships to provide professional public safety services, thereby reducing crime and the fear of crime. In doing so, we foster and maintain an environment that supports the well-being of our students, staff, faculty and visitors.
Our Vision
The University of Holy Cross Police Department aspires to be a world leader in innovative campus public safety practices. Our commitment to excellence supports the campus community's mission of educating the minds and the hearts of it students in an environment free of crime and the fear of crime.
Our Values
The University of Holy Cross Police Department is a team of full-time and part-time commissioned, civilian & volunteer personnel dedicated to ensuring the safety and security of the University of Holy Cross campus. We are committed to the highest standards of professionalism and ethical behavior, and we conduct ourselves with P.R.I.D.E. in all we do.
PROFESSIONALISM
We demonstrate our professionalism through our conscientious adherence to the highest standards in law enforcement. We build professionalism by creating an environment that encourages teamwork, innovation, collaboration and self-evaluation.
RESPECT
Employees are our most important organizational asset. Our success depends upon our relationships with our coworkers and each person we serve. We promote respect for individual rights and personal dignity in our daily interactions. We foster and preserve trust within the University of Holy Cross community, creating partnerships to eliminate crime and improve quality of life.
INTEGRITY
We expect truth, honesty and ethical behavior from all members of our department. We uphold our position of public trust by maintaining the highest level of professional integrity and ethical standards through strict adherence to the administrative codes of our University and the laws of our nation, state and region.
DIVERSITY
We make every effort to anticipate, plan for and respond to the needs of a diverse and ever-changing community. We appreciate and understand our similarities and differences, and value every partnership we establish. We recognize that different viewpoints, experiences and backgrounds are central to meeting the unique needs of the community we serve. We seek the input and talents of all members of the University of Holy Cross in our efforts to safeguard the campus.
EXCELLENCE
We strive to be a premier law enforcement agency through our commitment to collaboration, communication, education, mentoring, outreach and teamwork. In our pursuit of excellence, we support the implementation of creative and innovative strategies to address community concerns.

Sincerely,
Chief Marshall E. Pierre Sr.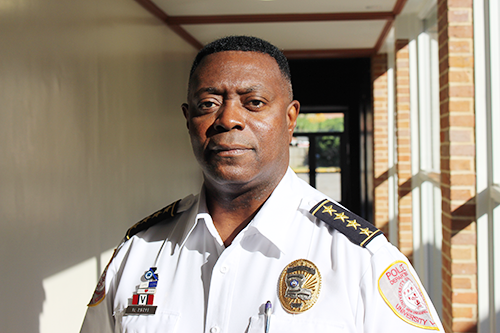 Alcohol and Substance Abuse
The University of Holy Cross is in full compliance with the Federal Law and the Drug-Free Workplace Act of 1988. The following acts or practices are prohibited and disciplinary action will be taken for infringement of any of these rules in or on University property.

• Manufacture, sale, possession or use of drugs or narcotics on University property at any time, or reporting to school under the influence of drugs or narcotics.
• Possession or use of alcoholic beverages on University property, including vehicles is prohibited, except for events authorized by the President of the University.
• Smoking is prohibited on campus.

Students who believe they have an alcohol or drug related problem should be encouraged to voluntarily contact the Rev. Thomas E. Chambers Counseling Center for information and counseling.

A complete description of the alcohol and substance abuse policy is available here:

DRUG AND ALCOHOL ABUSE PREVENTION POLICY

Information regarding drug and alcohol education, sexual assault, rape education and crime prevention can be obtained through the Rev. Thomas E. Chambers Counseling Center.

Any student reporting an on campus sexual assault or rape is asked to follow the reporting procedures outlined in the Student Handbook. The student will be informed of his/her rights, responsibilities and options available.