Educational Leadership (MEd)
Educational Leadership (MEd)
Curriculum Guide
MEd in Educational Leadership Curriculum Guide

Master's in Education Tuition is 50% Off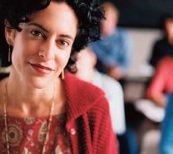 The University of Holy Cross now offers tuition discounts of 50 percent to classroom teachers pursuing a Master's Degree in Educational Leadership.
Decide today to enhance your future!
If you've already earned your master's degree, spread the word at your school. This exciting promotion, exclusively for classroom teachers, makes it possible for talented educators to enhance their careers and effectiveness. Chances are you know and respect teachers and administrators who earned their degrees at the University of Holy Cross.
Teachers who earn their Master's Degree in Education program can take the next step in developing their careers in administration. The University of Holy Cross is known for excellence in education and personal attention to students.
Our graduate programs are designed for working professionals seeking to enhance their careers. Simply put, the University of Holy Cross offers all the qualities--excellence, affordability, convenience, talented faculty, personal attention--teachers seek when they consider graduate education.
This program in Educational Leadership allows state-certified teachers to apply for certification as a Level I Educational Leader. This certification qualifies teachers to serve as a school principal or assistant principal or a district level administrator (supervisor through assistant superintendent). The goal is to give educational leaders the knowledge and skills to improve student learning by improving the teaching and learning process in schools.
The philosophy of the Graduate Education program is to nurture students into self-developing, competent professionals who can contribute to their community both personally and professionally.
To carry out this philosophy, the program emphasizes the whole person's development in areas of cognitive, intrapersonal, and interpersonal skills to live responsibly, respect individuality, and seek truth and peace, and foster justice in society. The philosophy of the whole person's development is stressed in the Education Department's Conceptual Framework which is "Developing Reflective Stewards: Educating the Mind and Heart and Providing Experiential Service."
The Graduate Education Program implements its philosophy and conceptual framework through objectives that focus on improving candidates' knowledge, skills, and dispositions.

Learn More
To learn more about the MEd in Educational Leadership, contact Dr. Cleveland Hill at (504) 398-2184.