Teaching & Learning (MEd)
Teaching & Learning (MEd)

Curriculum Guides
MEd in Teaching and Learning - ESL Concentration Curriculum Guide
MEd in Teaching and Learning - Reading Specialist Concentration Curriculum Guide
MEd in Teaching and Learning - Reading Specialist Add-On Curriculum Guide
MEd in Teaching and Learning - Instructional Leadership Concentration Curriculum Guide
MEd in Teaching and Learning - Religious Education Concentration Curriculum Guide
MEd in Teaching and Learning - Special Education Concentration Curriculum Guide
MEd in Teaching and Learning - Educational Diagnostician Concentration Curriculum Guide
MEd in Teaching and Learning - Educational Diagnostician Add-On Curriculum Guide


Master's in Education Tuition is 50% Off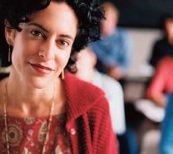 The University of Holy Cross now offers tuition discounts of 50 percent to classroom teachers pursuing a Master's Degree in Teaching and Learning.
Decide today to enhance your future!
If you've already earned your master's degree, spread the word at your school. This exciting promotion, exclusively for classroom teachers, makes it possible for talented educators to enhance their careers and effectiveness.
---
Upon being accepted to the program, graduate candidates will have an option to choose one of the following six concentrations:
ESL (online option)
Instructional Leadership
Reading Specialist (online option)
Religious Education
Special Education
Educational Diagnostician
*Candidates will also have the option of applying for additional add-on certification with the LDOE upon completion of the program, depending upon specific state requirements, (ESL, Mild/Moderate, Reading Specialist, Educational Diagnostician, or Educational Leader add-on certificate)
Additionally, all graduate candidates will take courses focusing on high-need areas of professional development, including but not limited to:
Differentiated instruction
Teaching in a multicultural classroom
Instructional supervision
Literacy across the content areas
Upon completion of the MEd in Teaching and Learning program, graduate candidates will have met the following student learning outcomes:
Practice professional teaching skills within the scope of a multicultural and changing society;
Synthesize theoretical and empirical knowledge in the field of education;
Demonstrate the ability to engage in critical thinking, decision making, and independent judgment;
Conduct and evaluate research in education and its related disciplines for its applicability to educational theory and practice;
Practice leadership skills in collaboration with members of the education profession;
Demonstrate the advocacy role within the department's conceptual framework for the uniqueness, dignity, and worth of the students and others;
Accept individual responsibility and accountability for personal and professional growth, decisions, actions, and their outcomes;
Formulate strategies for the improvement of learning; and
Contribute to effecting change in the educational profession through actions as a classroom teacher


For more information regarding the MEd in Teaching and Learning program, please contact:
Dr. Brooke Muntean
bmuntean@uhcno.edu