Neurodiagnostic Technology (AS & BS)
Neurodiagnostic Technology
(AS & BS)


What is Neurodiagnostic Technology?
Neurodiagnostic technology is a rapidly growing field with a large number of job openings projected over the next several years. Neurodiagnostic technologists record and monitor the electrical activity of the brain, spinal cord, and peripheral nerves to aid the diagnosis and treatment of neurological disorders or to prevent damage to the nervous system during certain types of surgeries.


Curriculum Guides
We offer both AS and BS in Neurodiagnostic Technology degree tracks. Both tracks combine academic courses at UHC with clinical training at adult and pediatric hospitals in the New Orleans metropolitan area. The clinical component is the same in either program, but the track leading to the B.S. degree requires additional general education and science courses. The B.S. degree is recommended for individuals who wish to prepare for supervisory positions or who are considering continuing on to graduate studies. The clinical training component of the NDT program is 12 months in length.


These are the most common tests performed by technologists:
Electroencephalogram (EEG)
Evoked potentials (EP)
Nerve conduction studies (NCS)
Neurophysiologic intraoperative monitoring (IONM)
Polysomnogram (PSG)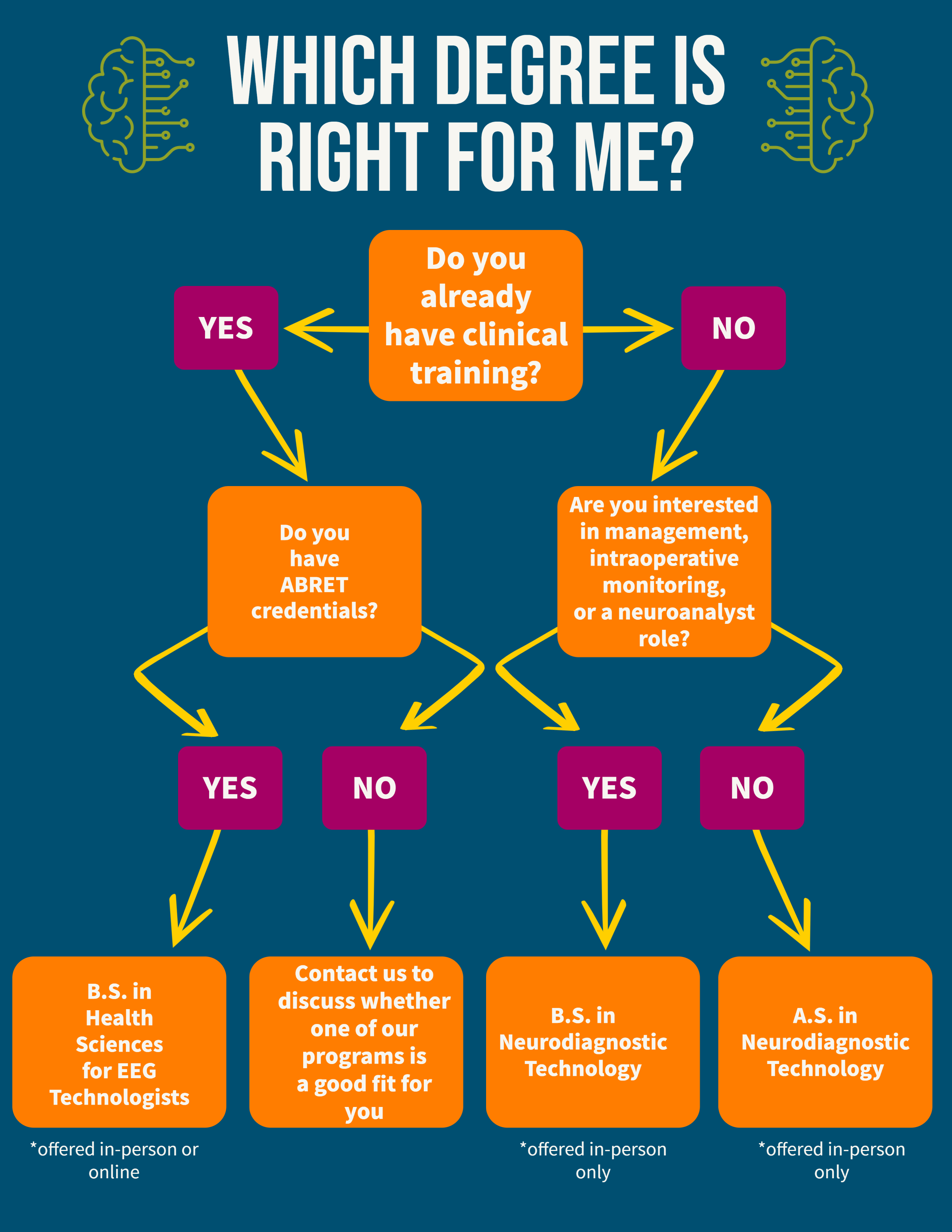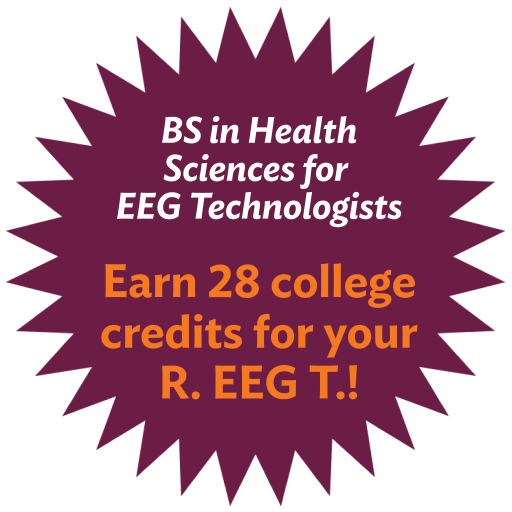 College Credit for ABRET Credentials
Are you a technologist looking to earn college credit for your credentials? The University of Holy Cross Neurodiagnostic Technology Program grants 28 credits towards a bachelor's degree to technologists holding ABRET credentials. The program can be completed 100% online, giving working professionals the flexibility that they need. A bachelor's degree helps technologists transition into management, research, IOM training programs, graduate school, and more. If you have an A.S. or have taken college courses, you may have even more transferable credit. Up to 62 additional credits may be transferred from other institutions. For more information, email Ms. Melissa Cobos at mcobos@uhcno.edu or apply today. See the curriculum guide below.
B.S. in Health Sciences Curriculum for Electroencephalography Technologists

Apply to the Neurodiagnostic Technology Program
Students interested in the B.S. in Health Sciences for EEG Technologists may apply in any semester. Applications for the in-person clinical program are accepted each spring semester, and the clinical program begins in the summer. We are currently accepting applications for the Summer 2023 cohort until March 31st. Contact Ms. Melissa Cobos at mcobos@uhcno.edu to request an application.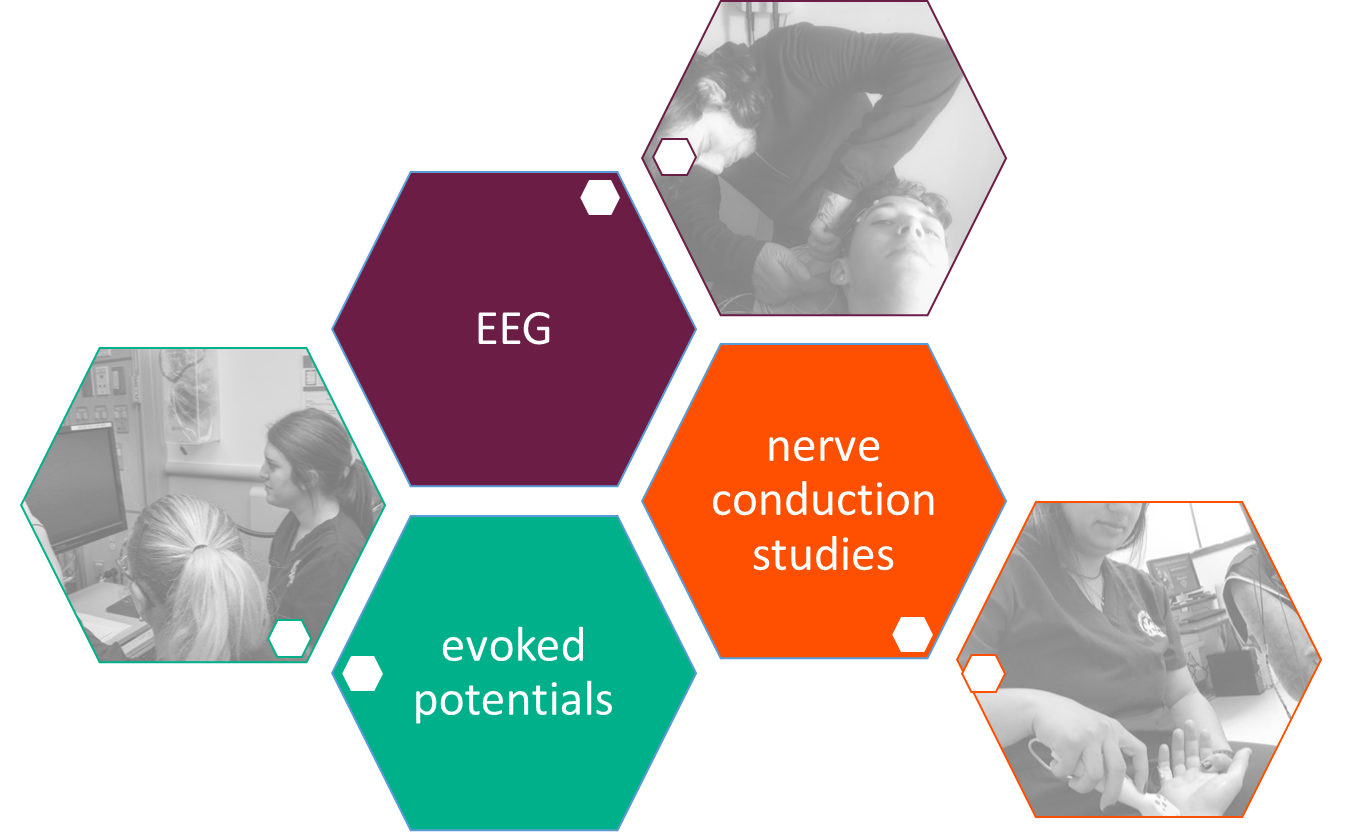 Meet Our Faculty
Barbara Wizer, MD, MS is an adult neurologist who has been on the faculty at UHC since 2009. She received her B.S. and B.A. degrees from the University of New Orleans and earned her M.S. in Biochemistry from Tulane University. After graduating from Tulane University School of Medicine she stayed at Tulane to complete a residency in Neurology and a fellowship in Clinical Neurophysiology and Epilepsy. Dr. Wizer is the NDT Program Director and Chair of Health Sciences. She teaches courses in both the Biology and Health Sciences departments.
Daniella Miller, MD, MPH
Daniella Miller, MD, MPH is board-certified in Child Neurology and Epilepsy. She currently serves as assistant professor of Clinical Neurology and Neurophysiology at LSU Health Sciences Center New Orleans and Children's Hospital of New Orleans. Dr. Miller was born and raised in Long Island, New York. She completed her undergraduate training at Johns Hopkins University in Baltimore, Maryland. Dr. Miller received her medical degree as well as a Master's in Public Health from Tulane University School of Medicine. She performed her pediatric residency training at Children's National Medical Center in Washington, D.C., followed by a residency in Child Neurology and Fellowship in Clinical Neurophysiology at LSU Health Sciences Center New Orleans.
Melissa Cobos is a registered neurodiagnostic technologist with certification in long-term monitoring (CLTM) by ABRET. The CLTM is awarded to technologists who have demonstrated knowledge in technical and clinical aspects of long-term neurophysiologic monitoring in epilepsy and critical care settings. Prior to teaching at the University of Holy Cross, she was a technologist in the Children's Hospital New Orleans Neuroscience Center.
Helana Bourgeois, RPSGT, RST, R.NCS.T
Helana Bourgeois graduated from Nicholls State University in 2006 with an associate degree in Cardiopulmonary Care Science. After graduation, she began working as a Respiratory Therapist at Ochsner and later transitioned into the sleep lab where she worked for six years. In 2013, she transitioned into the profession of Neurodiagnostic Technologist. She is currently employed at LSU Healthcare Network in New Orleans. Her credentials include RRT, RPSGT, RST, and RNCST. She is also a member of the American Association of Neuromuscular & Electrodiagnostic Medicine (AANEM) and the American Association of Sleep Technologists (AAST).
Harrison Adams, CNIM
Harrison Adams graduated from Rhodes College with a BA in Psychology. He is an ABRET certified neurological intraoperative monitoring technologist (CNIM) who has monitored over two thousand surgeries with dozens of different surgeons during the 6 years that he has been an IOM tech. He primarily works at Ochsner Medical Center but monitors surgeries across the state to provide coverage for a variety of spine, brain, vascular and other surgeries. He is a member of ASET, which is the national neurodiagnostic society, and enjoys sharing his knowledge about the highly in-demand field of intraoperative neuromonitoring.
Kayla Albarado, MS, BS, R. EEG T.
Ms. Albarado graduated from the University of Holy Cross with a BS in Neurodiagnostic Technology and earned an MS in Healthcare Management from the University of New Orleans. She has been employed at Children's Hospital since 2022 and serves as a clinical preceptor there.
Madison Wolf, BS, R. EEG T.
Ms. Wolf received her AS and BS degrees in Neurodiagnostic Technology as well as a BS in Biology from the University of Holy Cross. She has been employed as an EEG tech at West Jeff Medical Center since 2021 and serves as a clinical preceptor.
Learn More About Our Program
Accreditation
The University of Holy Cross Neurodiagnostic Technology Program is accredited by the Committee on Accreditation for Education in Neurodiagnostic Technology (CoA-NDT) of the Commission on Accreditation of Allied Health Education Programs (CAAHEP).



Transfer Students Are Welcome!
Did you know that you can transfer up to 90 credits toward our B.S. program? Contact Melissa Cobos at mcobos@uhcno.edu for more information.


Shadowing
Individuals who are considering majoring in Neurodiagnostic Technology who would like to request a shadowing experience may contact us to arrange an observation day or half day. Please send requests to Melissa Cobos at mcobos@uhcno.edu.


International Students
We welcome international students and accept applications from international candidates year-round. For information about requirements for international students, please visit International Student Admissions or contact Melissa Cobos at mcobos@uhcno.edu for application information.